One of the problems we all highlighted in the discussion post, I think, is how difficult it can be sometimes to leave feedback. A lot of the time we enjoy something, but don't have time to or simply can't articulate our feelings to anything more than that - and, well, that feels a bit boring. We don't want to sound pathetic! Surely we should say something more interesting if we're going to leave a comment... But then, more often than not, we don't leave a comment at all, and that's not good for anyone.
What we mods thought, then, was that we should try and introduce some sort of quasi-impersonal method of feedback. Like the 'kudos' on AO3 and the 'like' button on Tumblr, we wanted something that is more about clicking than anything else, something anxiety-free. This wouldn't need to be a replacement for traditional commenting, but it would be able to work alongside it, maybe supplement it... What we came up with, within the LJ system, are stickers: images that can be pasted into comments in order to show your appreciation, all bearing Fag Ends' new 'I liked this!' catchphrase: 'This is smokin'!'. Because we're all a bit silly like that really.
Now in the comm's sidebar you can find the images and the copy-n-paste text to include them in your comments.
At the moment we have three stickers for you to choose from, each intended to express a different mood you might be in after looking at someone's creation: an angsty Buffy from OMWF, Buffy and Spike being romantic in
Chosen
and Spike being a daft
flamingo
vampire in
Tabula Rasa
: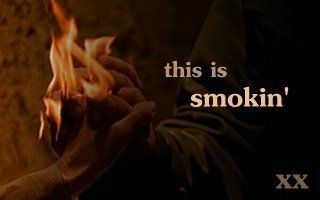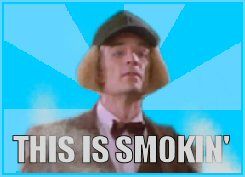 Copying and pasting the text as-is will place your selected image aligned centre in your comment. If you would like to align it left, simply remove the <center> and </center> you will see at the start and end of the HTML.
Why not have a go trying them out? This post is ready and waiting...
In any case, may you feel empowered to comment whenever and wherever forever more!
Hello again everyone!! Yes, it's a busy evening on Fag Ends tonight... But there's good reason why! This is something we've been wanting to launch for a while, since the Discussion Post of Doom, and tonight's the night that, ahem, we got round to it.